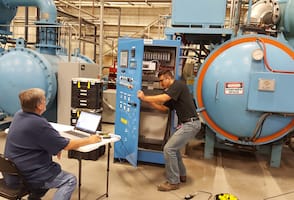 The Conrad Kacsik engineering team provides supervisory control and data acquisition (SCADA) system integration tailored to the exact needs of any manufacturer. These modern systems allow for exacting control and monitoring of industrial processes either on-site or remotely. SCADA systems are effective for multiple industries, including thermal processing, manufacturing, pharmaceutical, food and dairy, water and wastewater, among others.
We deliver the best solutions because our process starts with an engineering evaluation of your current SCADA system. We then offer recommendations that will enable you to achieve your goals and optimize performance. While SCADA systems are vital for meeting Nadcap or AMS2750 requirements, they also create a lot of opportunities to increase efficiency and run systems more effectively.
Performance Enhancing SCADA System Integration
SCADA systems enable tighter tolerances and repeatable performance. They deliver incredible value and peace of mind by:
Directly controlling multiple pieces of hardware, such as furnaces, through human-machine interface (HMI) software
Precisely batching and managing recipes
Monitoring, recording and processing data in real time
Communicating errors to allow users to address issues quickly and effectively
Providing meticulous data acquisition and documentation to meet industry standards, including AMS2750, CQI-9, CFR-21 and more
Reporting, trending date and time stamping jobs—all with operator signature capability
With an in-house engineering team using the latest hardware and SCADA software, Conrad Kacsik can build an ideal SCADA system integration for any application.
A Powerful HMI Platform
Conrad Kacsik uses the industry-leading SCADA software SpecView, which is capable of supervising all your processes and becoming the main SCADA control and data collection center for your system. SpecView works with standard PCs, providing for simple operation, configuration, programming and access to critical data. It places the information you need right at your fingertips—whether it's internally accessed from your own network or remotely accessed via a secure web connection.
We have deep experience programming this SCADA software, which means we can develop a highly customized, user-friendly interface that allows you to easily control processes and capture key SCADA data. We can also build a platform that will integrate with existing hardware—solving all your process control, data collection and reporting challenges.
SpecView is highly versatile. In addition to thermal processing, it can be used for a wide variety of other SCADA applications, including:
Heat treat
Hatcheries
Semiconductor
Crystal growing
Food processing
Environmental chambers
Additionally, it can be used in the continuous process plants of companies that deal with:
Chemicals
Glass
Refining
Extrusion processes
Landfill
Water treatment
And if you need a custom-designed HMI software solution and you work in beverage distribution, facility monitoring or within the plastics and refrigeration markets, Conrad Kacsik can help.
Cost-Effective
Conrad Kacsik can offer SCADA system integration in phases to meet budget and planning needs. Each SCADA component can be installed independently, so data acquisition can come before supervisory control. Better yet, these tools often work with existing instrumentation, minimizing new equipment costs.
We use open architecture and non-proprietary systems, which means you're not bound to us or any single OEM should your future needs change. Our systems also provide for unlimited "tags," which reduces software costs compared to other HMI software.
Flexible
Conrad Kacsik customizes each SCADA system for specific requirements. This can range from simple data acquisition to a fully integrated automation and control system—or anything in between. We offer touchscreen controls and user-defined screens based on customer specifications.
Getting the most out of a SCADA system involves working with an experienced team of experts. Good SCADA system providers will offer:
Engineering expertise to ensure your goals are met
Deep understanding of any industry standards you need to meet, such as Nadcap
Full ongoing support, including SCADA training, to ensure that your system delivers all the value possible—even if your needs change
Contact us to see how we can enhance your SCADA capabilities with custom integrations and help increase your bottom line.