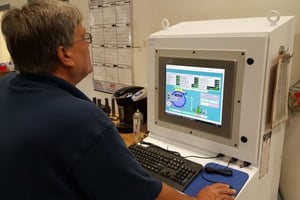 Companies providing thermal processing and heat-treating services are often amazed by the incredible capabilities of the latest supervisory control and data acquisition (SCADA) systems. As SCADA systems keep getting better, they deliver even greater value for providers.
SCADA systems allow for a high level of precision in heat treating and thermal processing while helping any manufacturer run their operations more smoothly and effectively. Here are five key benefits of a SCADA system:
1. Accessible Anywhere
SCADA systems allow for remote operation and monitoring of your furnaces with easy-to-use online tools. This also provides a way for experts like Conrad Kacsik to quickly run diagnostics and troubleshoot from anywhere in the world.
2. Easy to Use
SCADA does all the heavy lifting for you. Once SCADA programming is completed by engineering, the system can be as simple to run as pushing a single button—even if you're using dozens of different recipes. This means furnace operators require considerably less training and expertise to run batch after perfect batch.
3. Data-Driven
These systems seamlessly integrate with SCADA software that controls processes and automatically collects data to ensure systems are running accurately and every part of the process is accurately recorded and verifiable.
4. Peerless Performance
SCADA is all about precision and consistent results. That's imperative for meeting specifications set forth in widely-used industry standards like Nadcap, AMS2750 and CQI-9.
5. Cost-Effective
SCADA systems typically don't require furnace upgrades to perform as designed. They integrate with existing hardware and simply allow it to perform more effectively and efficiently.
The latest SCADA systems are perfect for taking heat treating and thermal processing to the next level. Whether you're looking to meet an industry standard or simply want to improve and streamline your processes, a SCADA system will get you there. To learn more about the latest SCADA systems, contact Conrad Kacsik.