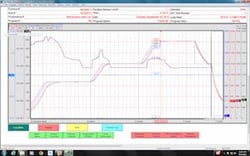 Conrad Kacsik offers a full line of superior products to meet any need for thermal processing, industrial heat treating, control panels, data acquisition and more. With a focus on value and long-term results and savings, we work with some of the best brands and products in the business, including:
Watlow (heaters, process controls, power controls, data acquisition, and thermocouple wire)
Honeywell process control systems
Eclipse combustion components
Land portable non-contact pyrometers
SpecView SCADA software
Yokogawa data acquisition controllers, process controls and parameter setting software
Delta H Technologies (heat treatment ovens and industrial furnaces)
Your One-Stop Shop for Almost Any Thermal Processing Need
Our expert engineering team can build an entire system or help you upgrade an existing system. They deliver deep knowledge of all the products we offer and back that with an unparalleled understanding of heat treating and various industry requirements.
Whether you're looking to improve processes and data logging with sophisticated SpecView SCADA software and Honeywell process control systems or upgrading hardware with exceptional Delta H Technologies furnaces and ovens, Conrad Kacsik can deliver the right product and ensure it's installed and integrated perfectly.
We can also meet your needs quickly. Our large inventory allows us to offer same-day shipments of temperature controls, high limits, recorders, thermocouples and accessories, thermocouple wire, recording chart paper and more.
Learn more about our specific offerings by contacting us today.