Conrad Kacsik has the tools and talent to keep your industrial furnace and controls compliant with Nadcap standards, AMS2750 pyrometry specifications and CQI-9 standards. Our furnace temperature uniformity surveys measure overall equipment performance and ensure that furnaces are capable of repeatable and accurate performance.
Furnace temperature uniformity surveys are crucial, and when working to meet a specification or standard, it's critical to follow the requirements of that standard.
Furnace Temperature Uniformity Survey Procedure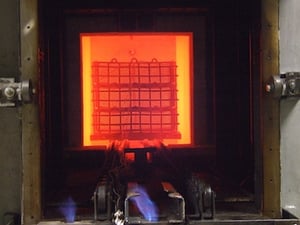 During our furnace temperature uniformity surveys, we:
Verify your furnace's classification
Define the qualified working zone
Set up an ongoing testing schedule
Measure how tightly the furnace stays in tolerance
Place the correct number of required TUS sensors
Determine the correct load conditions and furnace atmosphere
Test the temperature uniformity range within the qualified working zone
Collect and report the data in accordance with AMS2750
We can also perform ISO/IEC 17025 accredited testing to meet the E145 specification, which relates to gravity-convection and forced-ventilation ovens for the polymer and rubber industry.
We have factory-trained technicians who evaluate all types of heat treating and vacuum furnaces. If a furnace fails to pass a furnace temperature uniformity survey, we offer comprehensive assessment, troubleshooting and repair services that will help you avoid downtime and deliver consistently superior products.