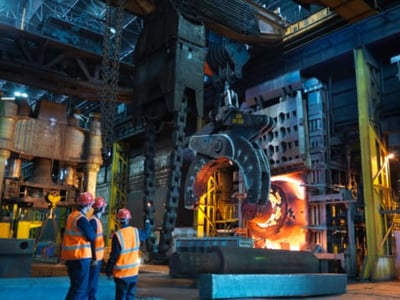 Whatever end markets they serve, forging companies trust Conrad Kacsik to help them meet the heat treating, pyrometry and process control demands required.
Conrad Kacsik's expertise runs the gamut from the exceptionally challenging demands of the aerospace and medical industries with PRI standards like Nadcap and MedAccred, and other industry benchmarks like CQI-9 and ISO/IEC 17025:2005. We can build custom solutions for any forging process, heat treating or pyrometry need.
Temperature is critical to proper forging processes. We help you ensure your process is right every time by building reliable systems that deliver consistent, repeatable results, backed by industry-leading data acquisition and electronic operating capability.
Our expert teams specialize in helping achieve industry standards while increasing efficiency and automation, making for forging processes that save time and money while delivering superior results. Our systems can smoothly and completely integrate with existing furnaces and devices, making them fast and easy to install while saving you money.
As your forging customers continue to demand more precision, you can count on Conrad Kacsik to meet and exceed those demands. As your needs grow, your process control system can adapt to meet tough industry standards like Nadcap.
Conrad Kacsik's forging process customers enjoy many benefits, including:
Precision: Our controllers can remember any recipe, and the SpecView SCADA software automatically records the results.

Efficiency: Keep your furnace at the exact temperature you want and automatically, safely preheat without an operator present.

Speed: Pre-program any recipe to run even complex jobs quickly and accurately.

Convenience: Operate from anywhere with an internet connection, or via an iPad used by an approved employee.

Scalability: Add machines and capabilities as needed to be ready to meet any customer demand for process control requirements.
Conrad Kacsik works across a range of industries and all types of metallic materials, so we have a unique understanding of a wide variety of standards, requirements and certifications. We help ensure your metal forging process and operations are adhering to the demands of all of your customers.

Our services cover every aspect of thermal processes, and our expertise in process control has made us a leader in training, consulting and delivering the highest possible quality with our controls, instrumentation and service.