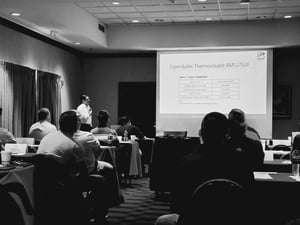 Byington Steel Treating, Inc. offers a full range of metal treating services in the Bay Area. Founded in 1952, Byington has been delighting customers and improving its operations for three generations of family ownership.
As the company has grown, it has served more customers in ever-more demanding industries. From its heat-treating tooling and semiconductors, Byington now serves a wide range of customers who demand high levels of certification.
Getting to the Next Level
When Byington's needs continued to grow and it wanted to serve aerospace customers, it contacted Conrad Kacsik to help the company earn Nadcap certification. The Performance Review Institute (PRI) oversees the Nadcap process, which is a strict set of guidelines driven by the industry to ensure accurate conformity assessments and provide accreditation based on a vendor's clear ability to perform precisely and accurately.
"When I first gained access to PRI and checklist requirements, I was overwhelmed at first with all the technical language and new requirements that I had never seen before," said Shaun Kim, Byington's director of quality.
Kim determined that his team needed to focus on pyrometry to get to the next level of Nadcap certification. His research led him to Conrad Kacsik. With decades of experience, Conrad Kacsik is uniquely positioned to provide the consulting, expertise and installation quality needed to leap the high hurdle of Nadcap.
The Nadcap Accreditation Process
Leading the project for Conrad Kascik was Director of Technical Services - Special Process Metallurgy Jason Schulze. He helped Byington polish its procedures and forms to mitigate any potential findings in the initial Nadcap audit and has continued to perform annual gap analyses, consult and be on site for every Byington Nadcap audit.
"The Nadcap heat treat audit is no joke," Kim said. "It's very difficult to pass, and the scope is much larger than an ISO audit. In my opinion, ISO is a walk in the park in comparison to a Nadcap heat treat audit."
The Nadcap accreditation process is extremely challenging, and having an expert there to guide you can make all the difference. Kim said the four-day audit was very trying, as the auditor asked comprehensive questions and thoroughly examined Byington's processes. Kim recommends taking these steps to improve the chances of success with Nadcap:
Allow plenty of time to prepare—Byington's team reviewed checklist requirements line by line to ensure it was meeting requirements.
Be brutally honest about what your company can actually do—Don't ignore gaps because the Nadcap auditor will find them.
Hire an industry expert to perform a gap analysis on AC checklists prior to sending to PRI
Take courses on pyrometry and AC checklist requirements
Hire an industry expert to help facilitate the audit
Even when they go quite well, Nadcap audits often turn up findings that must be corrected. Rather than waiting for an entirely new audit, a process called risk mitigation allows a company to correct issues found during an audit. PRI reviews root causes and corrective actions to determine effectiveness. Provided it's done well, this process can speed the Nadcap certification process after the Nadcap audit. For Byington, the key was having Conrad Kacsik as a partner in the process.
The Importance of a Nadcap Accreditation Expert
Nadcap accreditations are complex, intricate and ever-changing. Nadcap institutes policies additional to industry/prime specifications and can even exceed those requirements. An expert in the specific commodity you are seeking Nadcap accreditation adds efficiency because it speeds approval and is a great tool to teach new suppliers so they can get on their feet and maintain their Nadcap accreditation.
"We had consulting to help guide us through the process. Had we not had a consultant, it would have been much harder to format and answer the questions how PRI wanted," Kim said. "The findings were closed after root cause and corrective action was sufficient in the eyes of the staff engineer."
Kim said the time, effort and expense of Nadcap certification paid off, as it improved the company's processes and allowed it to serve a whole new set of customers, making the company more dynamic and its service offerings more diverse. It's also made him even better at his job.
"My knowledge of checklist requirements and risk mitigation procedures has improved greatly since going through risk mitigation and initial audit," Kim said. "I'm always looking to improve and gain more knowledge, and I learned a great deal from this."
Nadcap Training and Resources
With the right systems and processes in place, Nadcap accreditation is achievable, and Conrad Kacsik can help every step of the way. Use these resources and work with us to ensure your accreditation or Nadcap audit run as smoothly as possible.