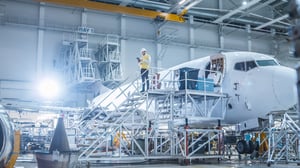 If you work in thermal processing in any way, it's likely that you've heard of the National Aerospace and Defense Contractors Accreditation Program (Nadcap). After more than 20 years in aerospace as a metallurgical engineer, much of which in consulting, I've heard a lot of opinions about the Nadcap certification process. It's a rigorous process, so it's not surprising that it can cause frustration, but I strongly believe meeting Nadcap requirements are the gold standard in process control for many good reasons.
Nadcap Enhances Efficiency
Nadcap's origins are based in a quest for simplicity. In 1985, SAE International and other engineers noticed that the multiple prime process audits required of suppliers were often redundant, creating clear opportunities for consolidation and enhanced consistency. SAE launched the Performance Review Institute (PRI) in 1990 as a separate nonprofit to govern Nadcap.
Nadcap certification requirements have steadily grown in scope and reach since, becoming a global industry standard across many commodities and end users. Nadcap covers transportation, power generation, nuclear and medical devices through its MedAccred program. Nadcap also offers eAuditNet business support software. Alongside Nadcap, PRI now offers professional development through PRI Training (formerly eQuaLearn), where I am a contracted Lead PRI Training Instructor.
Nadcap Is Here to Stay
The chief complaint I hear about Nadcap accreditation is that it's a monopoly. That word either has a negative business meeting or conjures memories of the board game (maybe we'll see a Nadcap version soon!). Yes, Nadcap is a monopoly, but it needs to serve its intended purpose of centralizing requirements and accreditation to achieve consistency in processing and quality systems.
Rather than meeting the needs of disparate groups of auditors, Nadcap provides one exacting set of targets that are widely accepted and trusted by all the entities that matter. Consistency is the key to great process control, and Nadcap is the best way to achieve those high standards.
Nadcap Is Difficult, but Not Impossible
Many suppliers working on Nadcap accreditation for the first time feel like failure on the first attempt is inevitable and maybe even part of the procedure. I hear this idea often, but it simply isn't true. Nadcap audits are basically open-book tests. The operating procedures are public. Anyone with access to eAuditNet can easily read the Nadcap requirements as they apply to both PRI staff and Nadcap auditors—you don't even have to be an approved supplier. Auditors are demanding and Nadcap certification is challenging, but there is no secret "fail-first" mandate.
Preparation Is the Key
I've helped many commercial and captive (in-house) processors gain Nadcap accreditation on the first try (even in heat treat). Obtaining Nadcap certification is not easy, and it requires intensive preparation because there are so many details to cover. I've also heard people say that no matter how well you prepare, you will receive a finding because the auditor "has to find something." I've been through audits and received zero findings only to find later items that were missed by the auditor that would have constituted two minor findings when performing an internal audit. Auditors are humans, too.
Missteps, no matter how common, do not indicate that Nadcap or PRI wants to fail a potential supplier. It just makes Nadcap accreditation that much more meaningful and explains why it is so widely accepted and trusted.
Nadcap Listens
PRI, Nadcap and the PRI Training team all allow both primes and suppliers to have input on the checklist requirements as well as handbooks. My mind boggles at the thought of organizing prime requirements and industry standard requirements while filtering "experts'" opinions out of the mix. The effort shows that they are engaged.
This is obvious at the annual PA Nadcap conference, where anyone can voice concerns and questions that are immediately addressed or documented and addressed later. PRI staff engineers also regularly answer questions, and their emails are easily found on the contacts tab of the eAuditNet page.
You Can Do It
Nadcap audits can exasperate suppliers, but they are a fair, honest look at process control. Nadcap certification is the best way to ensure consistency, and PRI provides many avenues of support for anyone facing an audit. My advice is to use it. If you want further assurance or need an extra boost before an audit, engaging a certified expert resource like me can help. You can also enroll in PRI-sponsored PRI Training courses to increase your knowledge. With proper preparation, and by using the many tools the PRI makes available, you will pass.
If you want to learn more about Nadcap accreditation or preparing for an audit, request a consultation with Conrad Kacsik.
To read more of Jason's articles related to Nadcap heat treat audits and pyrometry, you can visit his articles at HeatTreatToday.com as well as Thermal Processing Magazine.