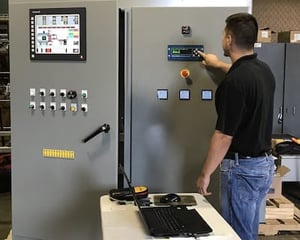 No matter what specifications you're aiming for or process you're controlling, you'll need an effective supervisory control and data acquisition (SCADA) system. SCADA systems are effective for a wide range of industries, allowing for exacting control and monitoring of industrial processes either on-site or remotely. A good SCADA system is crucial for compliance with specifications like AMS2750 and Nadcap.
The latest SCADA control systems offer much more than compliance. Their countless benefits include taking the worry out of staffing. With user-friendly software, operators can use SCADA systems for pre-programmed jobs on multiple machines to do numerous tasks automatically. This makes monitoring and operation easy while dramatically reducing operator error.
Once they're programmed and running with correctly calibrated equipment, SCADA control systems require very little training or expertise to operate flawlessly—and they automatically collect and retain all data.
The ease of use means less time training and more flexibility in staffing. Most new SCADA systems can even be operated and monitored remotely. Another SCADA system feature that allows for maximum staffing flexibility is password protection. Access to any process can be password-protected, allowing users to match parameters and processes to individual roles.
SCADA Systems That Meet Your Needs
At Conrad Kacsik, our in-house engineering team uses the latest hardware and SCADA software to build an ideal SCADA system for any application. We customize each SCADA control system for specific requirements, ranging from simple data acquisition to a fully-integrated automation and control system. To learn more about how a modern SCADA system can help you get the most out of your staff while delivering repeatable and precise results, contact Conrad Kacsik.