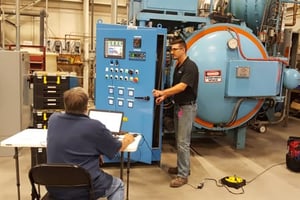 Supervisory control and data acquisition (SCADA) systems are incredibly sophisticated interfaces that allow industrial processes to be controlled and monitored simply and effectively.
In a SCADA system, control panels integrate with human-machine interface (HMI) software to create a full suite of services that's easy to program and operate.
This system delivers significant benefits in terms of programming and remote operation. Here are five of the most important:
1. Preprogramming of Jobs
No matter how complex or numerous the processes, a SCADA system can be programmed to deliver the same precise results every time. Options include multiple user profiles and unlimited job programming.
2. Control From Anywhere
Web-based tools let you operate your system from anyplace.
3. User-Friendliness
SCADA systems allow for simple operation and automatic data collection once they're programmed. High-level processes that once required expert operators can now be done with the push of a button.
4. Fast, Effective Troubleshooting
Remote operating means that people who need to know will receive alerts about errors or other issues in real time regardless of location. It also allows experts to access all control parameters, giving them insight to build strategies that ensure success, troubleshoot your system to quickly address problems or modify processes as needed.
5. Lower Costs
In addition to superior performance, SCADA systems will enhance the efficiency of your processes.
Reduced staffing needs

Prepping and running systems remotely without staff on site

Higher precision means fewer costly errors and issues in production
SCADA systems are tailor-made based on customer needs. Experts like Conrad Kacsik can engineer and program a SCADA system and integrate it with ideal software to ensure easy operation and years of excellent results. SCADA gets your hardware running optimally and delivers superior results for process control, data collection and reporting. To learn more about getting the most from a SCADA system, contact Conrad Kacsik.