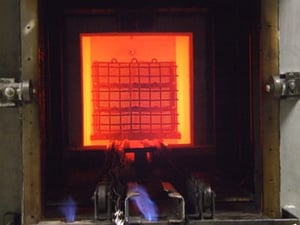 Ensuring that a furnace can perform repeatable and accurate cycles is a cornerstone of AMS2750E pyrometry specifications as well as Nadcap and CQI-9 standards. The best way to measure and test any furnace is through a temperature uniformity survey (TUS).
These surveys are critically important, and when working to meet a specification or standard, it's critical to follow the requirements of that standard.
Why a TUS Is so Crucial
Furnace temperature uniformity is important for any heat treating process. To help illustrate why, I'll use an example of brazing because it vividly illustrates the need for consistent and reproducible results in a furnace.
Brazing bonds two materials together with filler via the eutectic reaction. Many things can influence this reaction, but I'll focus on temperature uniformity as it applies to AMS2750E and Nadcap.
Brazing for aerospace applications requires particularly strict tolerances due to its sensitivities. Temperature tolerances for such brazing processes can be as little as ±5 degrees Fahrenheit.
For example, if we began a new diffusion braze process using a nickel braze filler, we might place five widgets at the corners and center of a flat ceramic plate to get five total samples. After the cycle, we would examine the samples in the laboratory to determine if they met the required diffusion depth.
If lab tests show that the samples located in the rear of the furnace have considerably less diffusion than the others, we will refer to the most recent TUS as a starting point for what went wrong. More than likely, it would show that the uniformity requirement cannot be met the way the furnace is performing.
This is just one illustration of why a TUS is not arbitrary. Customers have good reason to demand tight temperature tolerances. To meet their demands and adhere to AMS2750E, Nadcap and other requirements, it's vital to keep furnaces in perfect operating order so they can pass any TUS and deliver the right outcomes.
In later posts, I'll share more details about AMS2750E and Nadcap definitions and terms to help facilitate implementation of requirements.
If you have any questions about TUS, AMS2750E, Nadcap or other heat treating requirements, contact Conrad Kacsik.
To read more of Jason's articles related to Nadcap heat treat audits and pyrometry, you can visit his articles at HeatTreatToday.com as well as Thermal Processing Magazine.