Limco Airepair (Limco) is a Tulsa, Oklahoma-based manufacturer of heat exchangers, oil coolers, condensers, fuel heaters, precoolers and other aerospace parts. Given the extremely demanding requirements of its commercial and military customers, Limco must meet exacting standards with everything it does, including heat treating many of its components.
The Need
Limco had used a different vendor to install five new heat treat vacuum furnaces several years ago, but it was having trouble getting them dialed in. Limco heat treats and vacuum braises many aluminum parts for aerospace customers. The works require consistent and exacting specifications, and customers require that processes are well documented.
The Project
Although the ovens were new, the control system was antiquated. Limco had inconsistent results due to old control panels and controls. It contacted Conrad Kacsik to install new process control equipment and a full supervisory control and data acquisition (SCADA) system. Backed by SpecView software, the new system allows for consistent, accurate and efficient operations.
Conrad Kacsik did more than deliver the right hardware and software. It built a do-it-all SCADA system that provided a complete solution. Conrad Kacsik technicians installed all the hardware, then performed NIST traceable calibrations to ensure accuracy. The team also conducted temperature uniformity surveys (TUS) to verify that each zone in every furnace was performing to standard. The work also included system accuracy tests to be certain that all instruments are accurately reflecting temperatures. Conrad Kacsik also optimized the furnaces for peak performance and efficiency.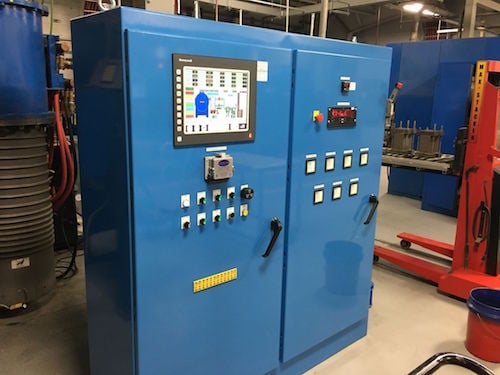 The Results
Limco has already significantly increased its success rate on every job—a crucial savings of time and avoiding costly heat treating and vacuum brazing errors. The expense of the job was also dramatically reduced because Conrad Kacsik retrofit all the new hardware onto existing furnaces.
The SCADA system has also enhanced day-to-day operations. With SpecView software, Limco can program an unlimited number of even the most complex jobs and recipes, making the operation of the furnaces much simpler, faster and more consistent. It also automatically records key information like temperatures and job times—crucial for achieving Nadcap accreditation for many operations. SpecView software allows for monitoring or controlling furnaces from anywhere with a web connection, allowing the utmost flexibility.
In the end, the Limco furnaces went from seven zones to one trim-controlled zone, allowing for more precision and requiring much less ongoing system accuracy testing and calibration. The furnaces are also much more efficient due to the programming capability, allowing for automatic preheating and dialing in the right temperature every time.
Limco continues to benefit from Conrad Kacsik's expertise, enjoying the remote access capability that allows the team to quickly and effectively troubleshoot for Limco from anywhere in the world. This access to experts has helped quickly resolve challenges and ensured that the system is running as it should every day.
Looking Ahead
Limco has already achieved Nadcap certification for some processes, and it's working with Conrad Kascik's Director of Technical Services, Jason Schulze, to earn Nadcap accreditation for heat treating. Schulze has helped Limco uncover and resolve findings that would cause problems during any Nadcap audit.
With its new SCADA system in place and furnaces running optimally, Schulze and the rest of the Conrad Kacsik team should be able to help Limco achieve its next goals.