Modern Industries is a large diversified manufacturer in Pennsylvania that does extensive precision heat treating. Since its founding, it has constantly updated its equipment to meet the growing needs of its demanding customer base.
When it comes to heat treating to standards like Nadcap and AMS2750, precision is vital. Those standards regularly become more exacting with each revision, making it necessary to upgrade to meet the needs of clients in exacting fields like aerospace, defense and medical equipment.
Each step must not only be exceptionally accurate but also reliably documented and traceable. Keeping up is a big challenge.
Turning to Experts
Modern Industries partners with Conrad Kacsik to remain on the cutting edge and turn out the best possible products. They turn to Conrad Kacsik every 3-5 years because the company can address every aspect of Modern Industries' heat-treating needs, including:
Assessing existing equipment
Providing advice on solutions
Custom building systems that meet specific needs
Consulting on how to meet evolving industry standards like Nadcap
Process control is all Conrad Kacsik does, allowing it to create solutions that control, track and record all heat-treating activity.


Custom Solutions
While furnace technology seldom makes dramatic changes, the systems that control, track and record those furnaces have made leaps and bounds thanks to new technology. Modern Industries recently engaged Conrad Kacsik to replace controllers on more than 30 furnaces. They chose Conrad Kacsik because of their willingness and ability to provide a customized package that fit its needs perfectly—all while allowing them to retain their existing furnaces, which delivered substantial savings while providing a platform for superior outcomes.

"Since all of our furnaces were included in the upgrade, it has added to our ability to service our customers and opened up more capacity for customers that we didn't have before," said Bryan Jageman, general manager of Modern Industries' Heat Treat Division.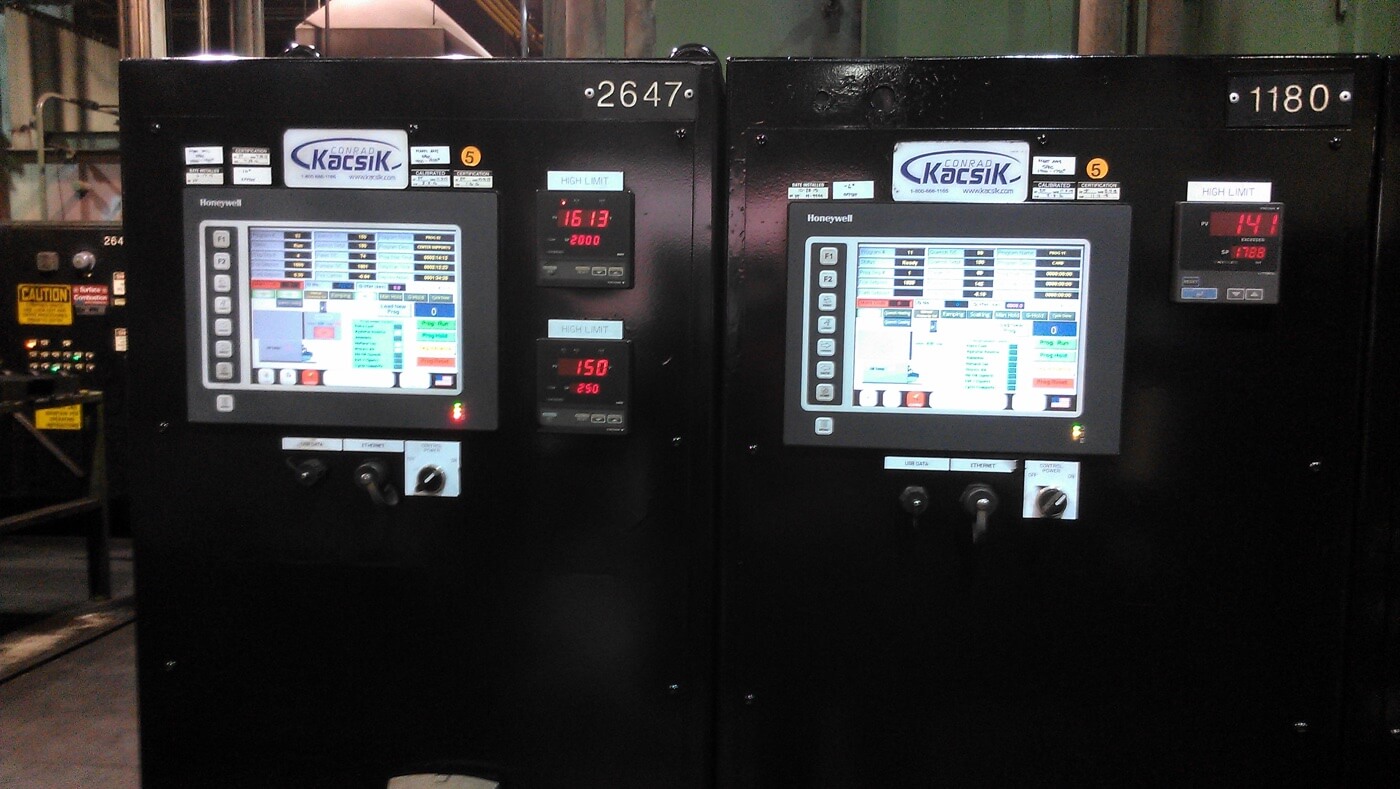 The Results
Conrad Kacsik built a system using new Honeywell HC900 controllers that are run by user-friendly SpecView software. They engineered a supervisory control and data acquisition (SCADA) system to spec, then backed the installation with expertise and service. The system was designed to exceed expectations, with custom features that help Modern Industries work more efficiently and effectively while providing a solid foundation for meeting demanding industry specifications.
"Everyone was very pleased to see the upgrade, and our customers are impressed," said Jageman. "Everyone that comes through here says it's state-of-the-art."
Modern Industries can now control multiple furnaces and zones exactly as the customer requires—and do so more quickly and even remotely if necessary. Because SpecView automatically captures and retains data, key documentation is seamlessly provided as well.
"Taken as a whole, it has improved Modern Industries' processes significantly," said Jageman.
"In a previous Nadcap audit, we had some nonconformance for pyrometry, but since we've had this system installed, our last audit was so successful that we achieved Nadcap merit status," said Jageman. "I believe the software and technology that Conrad Kacsik brought helped us obtain that. And that alone speaks volumes."
More Than an Installation
Conrad Kacsik installs control systems, but they do so much more. They bring unmatched know-how and talent that meets any heat-treating need. They provide instrument calibration, temperature uniformity surveys, troubleshooting and training and consultation on meeting industry standards like Nadcap and AMS2750—all under one roof. After more than four decades in the business, the Conrad Kacsik team can solve any heat-treating challenge.
To take your heat treating to the next level, contact Conrad Kacsik.